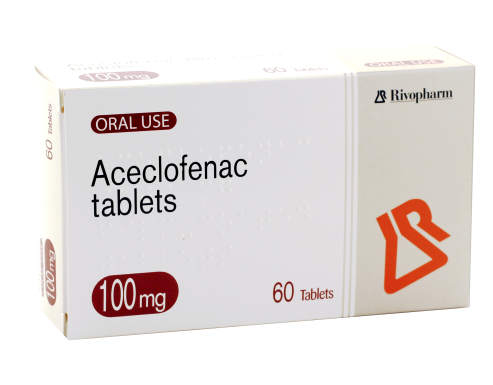 Get 10% discount on your next order. Order now to qualify.
Get 20% cashback on apple app store. Use code P056
DELIVERY & RETURNS
Free shipping offer on Pilldoctor and get exclusive offers.
Location
Door Delivery

Fastest delivery to the door for only 2 days. Don't miss exclusive offer.

Pickup Station

Fastest delivery to the door for only 2 days. Don't miss exclusive offer.

Return Policy

Fastest delivery to the door for only 2 days. Don't miss exclusive offer.
Description
Aceclofenac is a prescription drug prescribed for painful rheumatic conditions like ankylosing spondylitis and rheumatoid arthritis. It is an NSAID that works by blocking the effect of cyclooxygenase enzymes which makes chemical prostaglandins at the sites of injury or damage causing pain or inflammation. Aceclofenac is a film-coated tablet with Aceclofenac as the active ingredient. Each tablet consists of 100 MG of Aceclofenac. The core tablet contains cellulose microcrystalline, glycerine palmitostearate, povidone K30 and croscarmellose sodium.
The film coating contains:
Hypromellose 15 cps, macrogol 400 and titanium dioxide (E171)
Aceclofenac Uses:
Aceclofenac tablets are used by patients for the following ailments:
Osteoarthritis: This condition is a degenerative joint disease that involves the cartilage and surrounding tissues.The drug is used to treat tender and painful joints that are associated with osteoarthritis.
Rheumatoid arthritis: The drug is used to treat rheumatoid arthritis that causes swelling, pain and stiffness of the joints. If consumed for 4 weeks, twice in a day the patient's condition is likely to improve.
Ankylosing Spondylitis: It is a form of arthritis that affects the spine. This condition causes stiffness and pain from the lower back to the neck. It can be controlled if early treatment and diagnosis is done that can reduce or prevent deformity. The pain is not limited to the joints.


Aceclofenac Side Effects:

This is an approved drug in India but can cause side effects in some users. These include diarrhoea, stomach pain, vomiting, skin rashes, nausea, constipation etc. Consult a doctor if these side effects become severe or persistent.

Indigestion : In case of indigestion, patients should take the tablets along with a meal. If the pain continues, talk to the doctor right away.
Diarrhoea: Drink plenty of water and other fluids to replace the loss of fluid caused in this condition.
Dizziness : Do not drive or use heavy machinery if the patient experiences dizziness.


Aceclofenac Dosage:

Usually, the dose is one 100MG tablet to be taken twice preferably in the morning with your breakfast and in the evening with your dinner. The duration of the course should be followed as per doctors' instructions. Drink plenty of water to minimise the occurrence of stomach irritations and indigestion. Do not exceed the dosage or duration of the treatment.

Before starting the medication, read the information on the leaflet. It will give information about the medicine and the side effects of the drug.

Recommended Dosages

Adults : The recommended dosage for adults is 200 MG. One tablet should be taken in the morning and one in the evening (one tablet every twelve hours).
Children : This tablet is not recommended for children under the age of 18.
Senior citizens: This group will more likely experience side effects. Your doctor will give you the lowest effective dose for a shorter time.

The medicine is available in forms of tablets as is taken orally with water. It is advised that it should not be taken with food or after taking a meal, but not on an empty stomach. Do not crush or chew this medicine. Always read the leaflet before taking the medicine and for further information always consult the doctor or our pharmacist.

When is Aceclofenac prescribed?

Aceclofenac is prescribed by doctor for the treatment of a host of issues; this is because the drug works effectively to counter the extreme pain and inflammation that patients experience during issues like rheumatoid disorders, osteoarthritis, and more.

How to Use Aceclofenac?

The medicine should be taken as per the dose and duration told by the doctor. Long-term use of this medicine can cause complications like kidney issues and stomach bleeding. Do not take it with alcohol. In case if the patient notices any of the symptoms such as stomach bleeding, he or she should immediately report it to the doctor. The usual dose for adults should be 100mg tablet that should be taken twice in a day. It should be taken as whole with water and can be taken with or after having food. Patients should keep sufficient gap between the doses.

One should not self-medicate without talking to the doctor and do not stop the medication if you found any improvement in the symptoms.

How Aceclofenac works?

The effect of this medicine can be observed within 1.5 to3 hours after taking this medicine orally. Its effect lasts till 12-16 hours. The medicine blocks certain chemical messengers that cause pain and swelling. It reduces pain and inflammation.

How to store Aceclofenac?

It is advised to store this medicine at room temperature, away from heat and light. Do not freeze the medicine unless required or told by the doctor. Keep this medicine away from the reach of children and pets. Also, do not flush this medicine as it cause harm to the environment. Always consult your doctor before discarding the medicine.

Variants available:

The formulations of Aceclofenac in the market are available in the following variants of strength:

100 mg variant
200 mg variant

Suspension formulations:

The drug is also accessible in liquid formulations appropriate for consumption orally. these are formulated by carefully extracting the most powerful layer of the salt, to create a high performance liquid chromatography.

Aceclofenac Drug interactions:

Aceclofenac has moderate to severe interactions with certain groups of drugs.

Severe interaction of Aceclofenac is seen with drugs such as:

Warfarin
Steroids
Diuretics
Drugs used to lower blood sugar level in diabetes patients
Methotrexate
Ciclosporin and Tacrolimus
Antibiotics such as quinoline
Zidovudine
Other non-steroidal anti-inflammatory agents like aspirin, ibuprofen
Antihypertensive
Digoxin

Related Warnings/Precautions:

Some drugs are not suitable for patients with certain medicine conditions and sometimes a medicine is only used if extra care is taken.

This drug should not be taken under the following circumstances:

If the patient is allergic to this or any other anti-inflammatory painkillers.
If the patient is suffering from stomach or duodenal bleeding such as ulcers.
In case of impaired kidneys, liver function or a heart condition.
Pregnant women or breastfeeding mothers cannot take this drug.
Patients with high blood pressure or blood clotting problems should avoid this drug.
Do not consume alcohol while taking this drug.

The medicine should be kept in cool places away from the light and heat. Also, keep this medicine away from the reach of children.

Aceclofenac Substitutes:

Mentioned below is the list of medicines having the same composition as that of Aceclofenac. Therefore, they can be used as substitutes.

Acemiz 100 MG Tablet  (Lupin)
Altraflam 100 MG Tablet  (Ranbaxy Lab)
Algesia 100 MG Tab  (Macleods Pharma)
Affen 100 MG Tablet  (Dr. Reddys Lab)
Aceclo 100 MG Tablet  (Aristo Pharmaceuticals)

Aceclofenac Interactions:

Patients must inform the doctor about all the drugs and over the counter products. Aceclofenac interacts with following drugs and products:

Interaction with Alcohol: Alcohol should not be taken while the patient is on medication with this drug. Any symptoms like stomach bleeding or any presence of dried /coffee coloured blood in the stool should be treated by a doctor immediately.
Interaction with Lithium: Aceclofenac 100 MG and Lithium is not recommended due to the risk of an increase in the Lithium levels. This may lead to adverse effects. In this case, ask your doctor to prescribe an alternate tablet.
Interaction Digoxin: Do not take this drug while you are taking Digoxin. It increases the levels of Dioxin which leads to adverse effects on the heart. Consult your doctor and ask for alternative medicine.
Interaction with Corticosteroids : This combination increases the risk of gastrointestinal bleeding. Inform you consulting doctor who will then prescribe alternative medicines.

If you have any of the below-mentioned medical conditions you should bring it to the notice of your consulting doctor who will then substitute it with another drug.

Asthma : This drug should not be taken if you have Non-Steroidal Anti-Inflammatory Drug (NSAID) sensitive asthma.
Gastro-Intestinal Toxicity: Aceclofenac 100MG tablet should be taken under doctors' supervision if the treatment exceeds one month. Any adverse reactions like bleeding, ulceration, chronic indigestion, vomiting of blood or coffee coloured dry blood in stools must be reported immediately.
Impaired Kidney Function: Anyone with kidney related diseases must consult a doctor before taking these tablets. Suitable alternative medication or suitable adjustment in dosage will be given. At the same time monitoring of kidney functions is required.
Interaction with Anti-hypertensives : Aceclofenac 100 MG tablet along with anti-hypertensive increases the risk of kidney damage. Older users are more susceptible to interaction and regular monitoring of kidney function is of utmost priority. Also, users must maintain adequate body hydration and food intake.

Medicine that should not be used with Aceclofenac:

Diuretics : This medicine can increase the risk of nephrotoxocity of NSAIDs, though it will not affect the blood pressure control when taken with bendrofluazide, interactions with other diuretics cannot be avoided.
Methotrexate: The interaction between NSAID and methotrexate should be used with caution in patients suffering from renal function. In combination therapy, renal function should be monitored. Caution should be taken within 24 hours, as NSAID increases the plasma level that causes toxicity.
Anti-coagulants: NSAID's may increase the effect of anti-cogluants, like warfarin. Therefore, close monitoring of patients on this combination should be performed.
Quinolone: Aceclofenac increases the risk of convulsions associated with quinolone. This drug-drug interaction can develop the risk of convulsions.
Lithium: Avoid taking this combination as it may increase the lithium levels that can cause adverse effects. Take an alternative medicine after consulting the doctor.
Digoxin: This combination can increase the digoxin levels in the body that can lead to an increase in the digoxin's effects on the heart.
Corticosteroids: It is advised to take this combination with caution as it can cause gastrointestinal bleeding. If the patient is taking either of the medicines he or she should tell to the doctor. An alternative should be taken in this case.
Antihypertensives: Taking antihypersensitives with aceclofenac can increase the risk of kidney damage. This is more common among elderly people. In such cases, regular monitoring of kidney functions is necessary and it is advised to maintain food and liquid intake.
Product Ratings
Highest Ratings
There are no reviews yet.