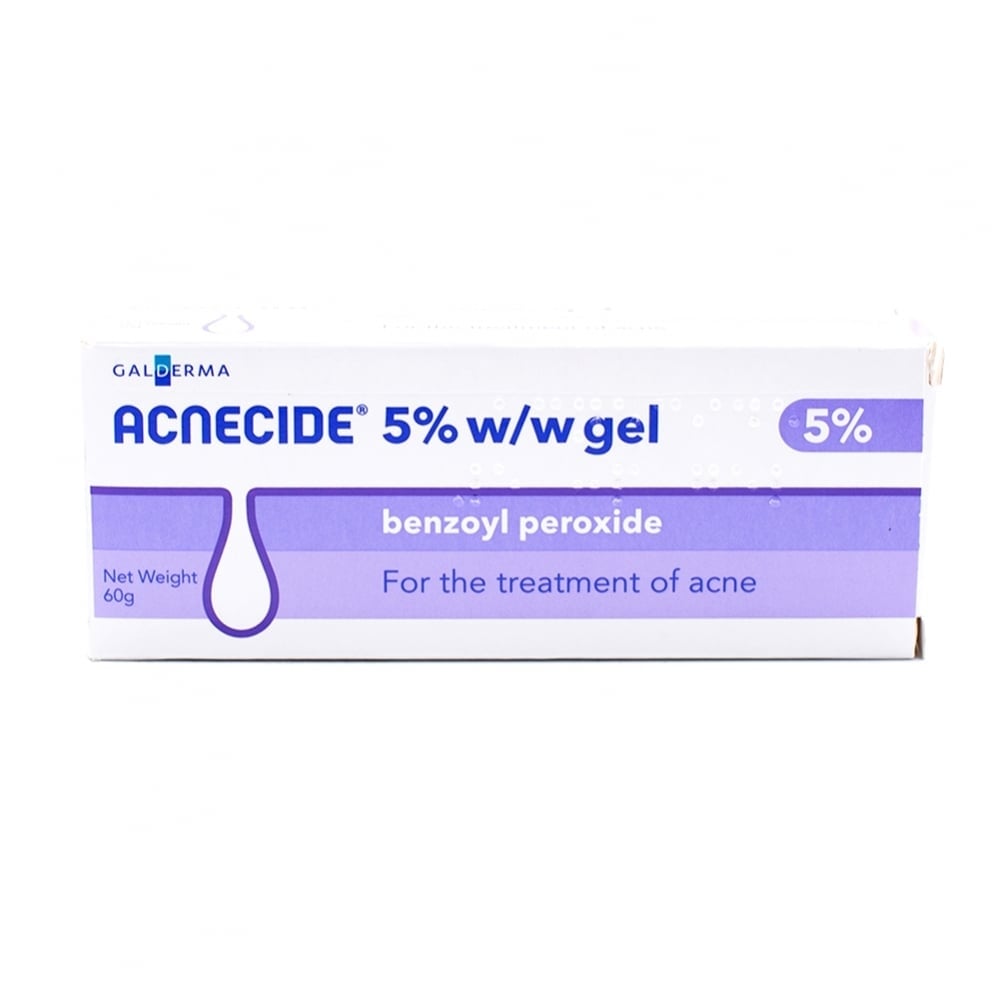 Acnecide 5% Gel
Rated 5.00 out of 5 based on

1

customer rating
Get 10% discount on your next order. Order now to qualify.
Get 20% cashback on apple app store. Use code P056
DELIVERY & RETURNS
Free shipping offer on Pilldoctor and get exclusive offers.
Location
Door Delivery

Fastest delivery to the door for only 2 days. Don't miss exclusive offer.

Pickup Station

Fastest delivery to the door for only 2 days. Don't miss exclusive offer.

Return Policy

Fastest delivery to the door for only 2 days. Don't miss exclusive offer.
Description
Acnecide Gel 5% contains the active ingredient benzoyl peroxide which effectively kills up to 95% of bacteria causing spots. In addition, it contains microsphere technology which helps absorb excess oil while releasing glycerine to hydrate the skin. An effective leave on treatment for acne of the face, chest and back areas.Acnecide helps to achieve acne free skin by killing spot-causing bacteria.
Benefits
Acnecide gel contains 5% benzoyl peroxide which is clinically proven to kill up to 95% of bacteria that causes spots, whilst absorbing excess oil and keeping skin moisturised.
Warnings or Restrictions
This is a medicine and is used for external use only.
Avoid contact with the eyes, mouth, angles of the nose and lining of your nose. If contact occurs, rinse thoroughly with warm water.
Do not use on broken, damaged, or infected skin.
This product may bleach hair, and coloured fabrics including clothing, towels and bed linen.
Avoid exposure to direct sunlight whilst using Acnecide. If exposure is unavoidable, use a suitable sunscreen and apply Acnecide at night. Do not use sunbeds.
If you swallow this product, seek medical advice.
Acnecide contains propylene glycol which may cause skin irritation.
Please consult your pharmacist or doctor before using this medicine if you are currently pregnant, likely to get pregnant or breastfeeding because medicines can affect the baby.
Please consult your pharmacist or doctor if you are currently taking any other medicines as this may cause an interaction.
If you think you may be allergic to any of the ingredients contained in this medicine, please seek medical advice before taking.
If you have any questions after you have bought this medication, please speak to your pharmacist.
Product Specification
Active ingredients: benzoyl peroxide 5%
Other ingredients: docusate sodium, disodium edetate, poloxamer 182, carbomer 940, propylene glycol, acrylates copolymer, glycerol, colloidal anhydrous silica, purified water and sodium hydroxide.
Size (30) Unit (G)
Also Contains: Docusate Sodium, Disodium Edetate, Poloxamer 182, Carbomer 940, Propylene Glycol, Acrylates Copolymer, Glycerol, Colloidal Anhydrous Silica, Sodium Hydroxide, and Urified Water.
Product Uses
Gently wash your skin with a mild skin cleanser and water, and gently pat your skin dry. Apply a thin layer of the gel once or twice a day to all the affected areas.
Tips & Advice
You should try to avoid exposure to strong sunlight while using Acnecide. If exposure is unavoidable, use a suitable sunscreen lotion and apply Acnecide in the evening. Remember to wash the affected area before use.
Any drying or peeling which may occur to your skin may be reduced if you alter the number of times you apply, i.e. to once a day or once every two days, until your skin adjusts to the product.
If you accidently apply too much of the gel, you may find that your skin becomes irritated. In this case, wash off as much as you can, and when the irritation has gone down, start using again as directed.
Acnecide gel for the treatment of acne, contains benzoyl peroxide, always read the label Please note that Acnecide gel and wash should not be used together as per recommendations from the makers, therefore the pharmacist is unable to approve orders for both the gel and wash for the same person.

Precautions

This is a medicine; Consult your doctor or our pharmacist if you have an underlying medical condition, are taking any other medication or complementary therapy, or if symptoms persist.

Seek advice before using if you are breast feeding, pregnant, planning to become pregnant, or suffer from allergies.

Keep all medicines out of the reach of children

Suitable for

Adults and children.

Age Restriction

You must be at least 16 years old to purchase this product.
There are no reviews yet.