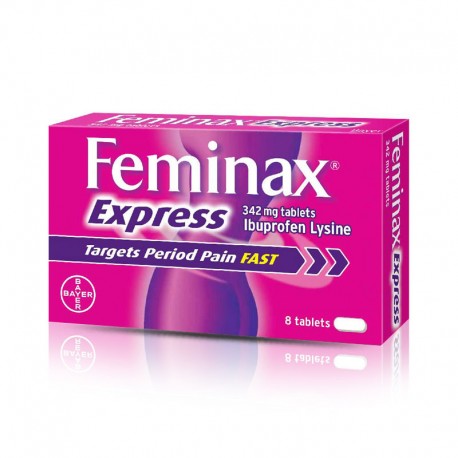 Get 10% discount on your next order. Order now to qualify.
Get 20% cashback on apple app store. Use code P056
DELIVERY & RETURNS
Free shipping offer on Pilldoctor and get exclusive offers.
Location
Door Delivery

Fastest delivery to the door for only 2 days. Don't miss exclusive offer.

Pickup Station

Fastest delivery to the door for only 2 days. Don't miss exclusive offer.

Return Policy

Fastest delivery to the door for only 2 days. Don't miss exclusive offer.
Description
What is Feminax?
Feminax Express contains ibuprofen lysine which is the lysine salt of ibuprofen. The ibuprofen is one of a group of non-steroidal anti-inflammatory drugs which work to reduce pain, fever and swelling.
This medicine is used to relieve:
rheumatic and muscular pain, backache
neuralgia (nerve pain)
headache, migraine
dental pain, period pain
fever (high temperature)
the symptoms of colds and flu
How does Ibuprofen work?
Ibuprofen works by reducing hormones that cause pain and swelling in the body. Ibuprofen is called by different brand names, including Nurofen, Brufen and Calprofen (syrup).
Who can and cannot take Ibuprofen?
Some brands of ibuprofen tablets, capsules and syrup contain aspartame, colourings (E numbers), gelatin, glucose, lactose, sodium, sorbitol, soya or sucrose, so they may be unsuitable for some people.
Do not take this drug if you:
Have had an allergic reaction to ibuprofen or any other medicines in the past
Have had allergic symptoms like wheezing, runny nose or skin reactions after taking aspirin or other non-steroidal anti-inflammatory medicines (NSAIDs) such as naproxen
Are trying to get pregnant or are already pregnant
Have high blood pressure that's not under control
To make sure ibuprofen (by mouth or on your skin) is safe for you, tell your doctor or pharmacist if you have:
had bleeding in your stomach, a stomach ulcer, or a hole (perforation) in your stomach
a health problem that means you have an increased chance of bleeding
liver problems, such as liver fibrosis, cirrhosis or liver failure
heart disease or severe heart failure
kidney failure
Crohn's disease or ulcerative colitis
chickenpox or shingles – taking ibuprofen can increase the chance of certain infections and skin reactions
If you're over 65 ibuprofen can make you more likely to get stomach ulcers. Your doctor will prescribe you a medicine to protect your stomach if you're taking ibuprofen for a long term condition
What are some side effects of taking this drug?
Common side effects
The common side effects of ibuprofen happen in more than 1 in 100 people. Talk to your doctor or pharmacist if these side effects bother you or don't go away:
Headaches
Feeling dizzy
Nausea
Vomiting
Wind
Indigestion
Serious side effects
Call a doctor straight away if you have:
Black poo or blood in your vomit – these can be signs of bleeding in your stomach
Swollen ankles, blood in your pee or not peeing at all – these can be signs of a kidney problem
Severe chest or stomach pain – these can be signs of a hole in your stomach or gut
Difficulty breathing, or asthma symptoms that become worse
Product Ratings
Highest Ratings
There are no reviews yet.