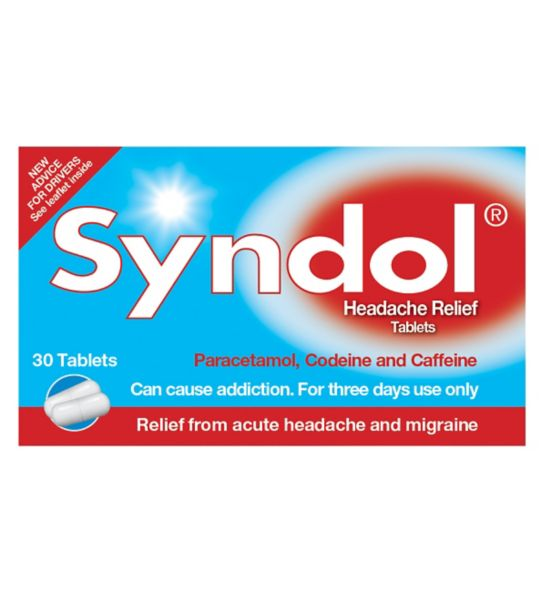 Syndol Headache Relief
Get 10% discount on your next order. Order now to qualify.
Get 20% cashback on apple app store. Use code P056
DELIVERY & RETURNS
Free shipping offer on Pilldoctor and get exclusive offers.
Location
Door Delivery

Fastest delivery to the door for only 2 days. Don't miss exclusive offer.

Pickup Station

Fastest delivery to the door for only 2 days. Don't miss exclusive offer.

Return Policy

Fastest delivery to the door for only 2 days. Don't miss exclusive offer.
Description
Syndol tablets are pain relief medication that can help to ease headaches and pain caused by migraines. Ideal for those who suffer from headaches that cannot be managed by painkillers like aspirin, ibuprofen, or paracetamol alone, Syndol gets to work fast to ease headaches and other pain.
What causes headaches?
Many people suffer from headaches regularly, as they are a very common, everyday ailment. They can be caused by lots of different things, with some of the most common causes of headaches including:
Cold and flu
Stress
Bad posture
Eyesight problems
Not eating regular meals
Dehydration
Drinking too much alcohol
Taking too many painkillers
Your period
Menopause
How will these tablets relieve my headaches?
Syndol tablets contain 3 active ingredients which work together to relieve headaches and migraines. These three ingredients are:
Paracetamol
Codeine
Caffeine
Paracetamol and codeine are pain relief medications which can work together to ease the pain. Paracetamol can also be used to reduce fever and high temperatures. Caffeine helps to make paracetamol more effective.
How to take Syndol tablets
For adults taking this product, take 2 tablets every 4 – 6 hours as required. Do not take more than 8 tablets in any 24-hour period. For more information about how many tablets to give to children between the ages of 12 – 18, please read the patient information leaflet.
Why do I have to answer questions to buy this product?
You do not need a prescription for Syndol, however, you will be asked to complete a short medical questionnaire by your pill doctor pharmacist before we can take your order. This includes some simple questions that all pharmacies legally are required to ask before supplying this kind of product. This helps our pharmacy team to be sure that this product is the best choice for you.
When should Syndol not be used?
Syndol is not suitable for use by children under the age of 12. Do not use this product if you are allergic to paracetamol, codeine, caffeine or any of the other listed ingredients. These tablets might cause drowsiness, do not attempt to drive or use tools or machinery unless you are certain that you are not affected in this way. Do not take Syndol if you:
Have acute asthma
Have a severe respiratory disease
Suffer from alcoholism
Have had recent bile duct surgery (e.g. gallstones)
Suffer from paralytic ileus, where your bowel has ceased to function
Have recently had a head injury or raised pressure in the skull
Are breastfeeding
Have been told by your doctor that you are a CYP2D6 ultra metaboliser (metabolise rapidly codeine into morphine)
Are under 18 years old and have had your tonsils or adenoids removed
Speak to your doctor or pill doctor pharmacist before using this product if you:
Suffer from kidney or liver problems, including alcoholic liver disease
Have an enlarged prostate gland
Suffer from low blood pressure
Suffer from inflammatory or obstructive bowel disorders such as constipation, diarrhoea, or bloating
Suffer from an underactive thyroid gland
Are elderly or debilitated
Are pregnant or planning to have a baby
Syndol should not be taken at the same time as some other medications as they can interact. For a full list of which medications should not be used with this product, please read the patient information leaflet carefully.
Does this product have any side effects?
Like all medicines, Syndol can have side effects, although not everyone will experience them. These side effects include:
Allergic reaction, e.g. rash, itching, swollen red areas of skin, swelling of the face
Very rare cases of serious skin reactions have been reported
Signs of blood disorders, e.g. unexplained or unusual bruising or bleeding, fever, infections
Signs of heart and circulation effects, e.g. unusually low heart rate, low blood pressure, hypothermia
Nervous system problems which can cause hallucinations
Restricted breathing
Abdominal or back pain
Stomach and intestine effects, e.g. constipation, stomach cramps, feeling sick and vomiting
Signs of other nervous system problems, e.g. dizziness, lightheadedness, disorientation, drowsiness, headache, tremor, nervousness, confusion, irritability, restlessness, anxiety, mood changes, vertigo
Heart and circulation effects e.g. increased awareness of your heartbeat, head rush, dizzy spells, increase in your heartbeat, sweating
Difficulty passing water, needing to pass urine more often, passing less urine than usual
Decreased libido or potency
Muscle rigidity
Dry mouth
Your eye's pupil may become smaller
Blurred or double vision
Nightmares
If you experience these or any other side effects while using this product, stop use and speak to your doctor or Pill doctor pharmacist right away.
Important Information
This product is a medicine; make sure to speak to your doctor or Pill doctor pharmacist before taking this product if you have an underlying medical problem or are taking any other medicine or complementary therapy. If your symptoms get worse or continue after taking this product, contact us or your doctor.
If you are pregnant, trying to become pregnant, or breastfeeding, speak to your doctor or our pharmacist before taking this product. If you suffer from any allergies, ask your doctor or our pharmacist if this medicine is right for you.
Store all medicines out of sight and reach of children.
Please read the included leaflet carefully before using this product.
Helpful Advice on Medication Restrictions & Addiction
For further information on our medication restrictions policy, please call us or whatsApp us on +233267000104.
If you are concerned about an addiction to 'over the counter' medication we urge you to visit our website "www.pilldoctor.com.gh" for professional help and advice right away.
Product Ratings
Highest Ratings
There are no reviews yet.